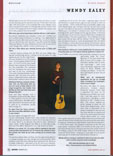 Click on this image to download an interview by the very generous Nick Charles for his "Musician" column in this January's issue of a Rhythms, Australia's most widely read roots magazine.
Here are a some very kind reviews of "Out of the Shower...
Jeb Tyler, Down Under, Australian Hi-Fi Sept/Oct 07
"It almost took me longer to read the 'thank-you's' on the back of the CD than
it did to listen to Out of the Shower. Ealey's contralto voice is a superb instrument, her lower registers are almost tenor and so superbly earthy you can smell the humus. At times when she sings, she sometimes seems to 'dual pitch', with her voice briefly catching the upper octave (or second octave!) before regaining the 'real' note, which I found quite fascinating. It's also lucky she's singing her owns songs. No Right Way is so fiendishly difficult I don't think it'll every be covered. Her songwriting abilities are demonstrated by Child of My Heart, easily the finest lyric I have heard in a long time, and Wendy is so obviously singing from the heart that it will stick in your memory."

Julia Irwin, Northcote Leader May 07
"When Northcote resident Wendy Ealey wrote to Grammy Award winning US singer-songwriter Janis Ian describing herself as an insignificant songwriter who wanted to do a version of her song 'Jesse', Ian replied saying there is "no such thing as an insigificant songwriter". She said she was welcome to record the song. Ealey does the song justice with her faithful rendition, but it is some of the songs she has written herself that can move the listener to tears or laughter. This is an intensely personal folk roots album from a seasoned musician. Standout tracks include the title 'Out of the Shower', an optimistic song about gaining confidence with age, and 'Child of My Heart', about Ealey's longing to have a child afer the biological clock passed midnight. Ealey's 82-year old mother Mary Stentiford performs backing vocals on one track. 'Out of the Shower' is well worth a listen. It is available at Wendy's gigs."

John Williams, Trad & Now December - January 07/08
"In the cover notes to this CD Wendy says she wrote to Janis Ian asking permission to sing the classc song 'Jesse'. The reply was, "Wendy, there is no such thing as a singer/songwriter of little consequence."
After listening to this CD many times I am surprised that Wendy thought of herself in this way as this CD is a beauty.
The review took quite a while to write as I had to keep stealing the CD back from my wife who took a real liking to it. Everyone I played it to also thought it was terrific. There are thirteen tracks ten of which are written by Wendy.
Wendy can write very powerful lyrics.
Her song, "Bigger Than This"* about our government's attitude to refugees deserves wide airplay but probably won't make commercial radio. That's why we have the ABC.
Another political and thought provoking track is "Riding on Uncertainty".
Wendy also shows her abilities with many highly personal tracks.
"Cautionary Tale" shows what happens to a partner who cheats.
"Child of my Heart" has such a sense of longing it could easily move you to tears.
"Walls" is about a relationship break-up and getting over it.
My favorite track is the very amusing "Dancing". This song will sure fill the halls of Australia with willing dance participants! At the very least you are guaranteed a good laugh.
The title track, "She's Out of the Shower" is possibly autobiographical.
If this is the case then Australia has gained a great singer/songwriter who has the ability to construct meaninful lyrics and perform them with great vocal talent.
There are many other fine tracks on this CD. You won't be disappointed if you purchase it. And I'll bet Janis Ian will be pleased with Wendy's cover of 'Jesse'."
* To avoid any confusion, Bigger Than This was not written by me, but rather by Mary Caruana, in conjunction with Brent Parlane. I thank them for their permission to record the song and for their contribution to the recording. Mary and Brent both sang backing vocals, Mary's daughter Belle is that angelic voice of youth at the end of the song, and Brent also kindly played guitar on the track.
By jools • Feb 14th, 2009
Wendy Ealey has a voice that takes me back to smoke filled folk venues of Melbourne 30 odd years ago. With good reason, she has been a performer on the folk scene both in Australia and in Britain since the 70′s.
Hers is a big beautiful voice that resonates with passion as she sings songs penned by herself and others accompanying herself on guitar. Political songs nestle comfortably with love songs to form a quilt of human experience.
A song written by Mary Caruana with Brent Parlane called "Bigger Than This" can be found on on her MySpace site, is a ballsy dig at the treatment of "illegal" immigrants. "Child of My Heart" is the story of grief felt by an infertile woman.
And to be scrupulously fair, a less enamoured assessment of the album...

Michael Scott Cain, Rambles.NET 11 October 2008
There's no doubt Australian singer-songwriter Wendy Ealey can sing. She has a huge contralto and the technique to use it appropriately for whatever song she's singing at the moment, at a boom or whisper.
The problem I have is with what she chooses to sing. Like many contemporary songwriters, Ealey is fond of the direct statement. As an example, consider these words from "Walls," a song about the aftermath of being dumped:
And yet I continued to function
I worked and sometimes I would play
For sometime I felt no compunction
in nursing my heartache, in hiding away.
I've had those feelings, so I know what Ealey is singing about. The problem is she's telling me about them, rather than making me feel them. Surely, an image or a pattern of imagery is available that will make the point without just talking about it.
In "Out of the Shower," a song about a woman finally taking control of her life, Ealey uses the metaphor of taking a long shower to signify hiding from life. But after constructing the metaphor, Ealey returns to direct statement, writing:
She thought there was no rush
Had not anticipated the people who would crush
Her dreams and aspirations
With a few well chosen words.
I'm aware there are many people out there who respond to what a song is saying rather than the way it is said, and many of those people will like this CD -- but as far as the art of songwriting goes, good messages don't necessarily make good songs.