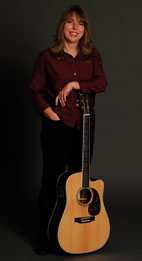 Wendy shares her Melbourne home with her family, three cats, Abby, Russet and Sniper and Alfred the canine member of the family —the guard dog— all of these close relatives being discerning critics and valued advisors in matters musical and sartorial. She is known to be quite soppy about her furry companions past and present
Wendy is a keen chatterbox and brings this rare skill to her work as an MC. She has appeared in this role at music festivals, community festivals, fund raising events, cd launches and awards presentation events. She has also written the theme tracks for two documentaries, co-writing and performing corporate comedy and appearing in the occasional dramatic piece - being a bit of a dramatic piece herself.
She is involved in fostering the songwriting talent in the Northern suburbs of Melbourne as co-founder of the Darebin Songwriters Guild. Not content with drowning in the administration of the above, Wendy also coordinates and MCs the Maldon Folk Festival Roddy Read Memorial Songwriting Awards.
Lately...
"It's been a busy year for Moy and I. We had a tremendously good time up at the Yackandandah Folk Festival - particularly their Earth Hour (2 actually) concert which had just about every artist on the program doing a song which meant the energy and pace of the show was fantastic - not to mention the callibre of music. Terrific event. Unsung Heroes have played at the Port Fairy Folk Festival, Mt Beauty Music Festival, Canberra to present at a History Teacher's conference, Queanbeyan (ACT), Snake Valley (VIC) and are just embarkingon school shows. I've been doing some nice recording sessions offering a bit of wailing and warbling for my dear friend Malcolm J Turnbull's latest project - the writer/musician, not the polly.
Last year gathered pace with trips to South Australia, Canberra, Sydney and Perth to play and promote the Unsung Heroes of Australian History project. Moy and I rode the Indian Pacific over to Perth and had a simply wonderful journey - not going to mention the incident where I go locked in the ensuite - and a great time in that very amazing place. One way or another everyone does seem to have something to do with mining... Thanks to the Hills Folk Club for taking the punt and putting us on. We had a grand time playing there!
I've been loving my dear, ever so slighly over decorated, mandolin and Moira and I have worked up some rather nice instrumentals. We really, truly are going to record an album in 2013. Really looking foward to getting stuck into that.
We also have had the tremendous joy of working with a group of artists with disabilities from Kiribati - the Te Toa Matoa. I fervently hope that I may have the chance to continue what we started here or there. A wonderful bunch of men and women - talented and irrepressible. It's been an amazing year for new and big experiences. May they continue.
Now segueing into smooth promo speak... Wendy is available for 'how to' harmony workshops for bands and singers, MC engagements solo gigs and performances in the Ealey & Tyers duo.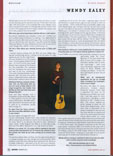 Meanwhile, follow this link to download an interview by the very generous Nick Charles for his "Musician" column in January 2011's issue of a Rhythms, Australia's most widely read roots magazine.