Available now
Wendy's album "Out of the Shower"
Since recording the album, Wendy has been involved with numerous collaborative recording projects including the Unsung trio's CD "Mudcake", and the soon to be released album of the music from the Unsung Heroes of Australian History project. She is planning to record an album with Moira Tyers during 2011.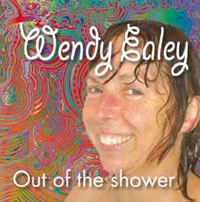 *Click on the ear icon next to the song titles with an asterisk to hear an mp3

or email Wendy to purchase a copy
To read reviews of "Out of the Shower" click here
I wish to thank my dear friend Margaret for her invaluable assistance in producing my demonstration CD. I am also eternally grateful to Wayne of Rhythm and Views for his encouragement and for providing a delightful and safe forum for presenting my music at his 'In Store' music afternoons. Thanks also to Dean for his treatment of the guitar in the Moods mix.

*The Beginning
© Wendy Ealey 1999

*Looking for Clues
© Wendy Ealey 1999

*Child of My Heart
© Wendy Ealey 2001

*Cautionary Tale
© Wendy Ealey 1999

The Road You Take
© Jenny Ealey 1997

*No Right Way
© Wendy Ealey 2000

Ode to A minor
© Wendy Ealey 2002

Dancing
© Wendy Ealey 2002

Insomnia
© Wendy Ealey 2002

Out of the Shower
© Wendy Ealey 2002

Change
© Wendy Ealey 2003