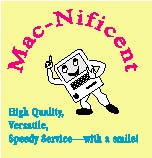 Mac-Nificent
is a Macintosh based desk top publishing business Wendy founded in 1989. As the Yellow Pages so concisely and yet poetically puts it: Graphic design and typesetting: Newsletters, Educational Resources, Brochures, Logos, Books, Academic Publications, Reports, Catalogues.
Clients include Australian Institute of Environmental Health, Australian Institute for Primary Care: La Trobe University, Welfare Rights Unit, Duplex Cleaning Machines, Inyahead Publications, Victorian Primary School Sports Association, Sitecraft Materials Handling, Crescent Health Care, Boeing Hawker de Havilland and Research Matters.
Our approach to design follows the 'less is more' principle—clear communication being our primary focus.We work closely with clients to produce accessible and communicative publications. Our aim is to be responsive to client needs and deliver within short timeframes. Some examples are of our work are below...
Books

Journals

Catalogues

Educational Materials